Morning lovely People!
Hope you all had a lovely bank holiday weekend. My friend Alex and I managed to chase the sunshine and spent the last 2 days of the jubilee weekend in the Lake District climbing Scafell Pike. The sun shone all day and as a result the views from the top were amazing, plus we managed to squeeze in a few beers in the last hours of the sunshine after the climb which was just lovely! If you love trekking and enjoy a bit of a scramble then Scafell Pike will be right up your street – it's a beautiful part of England.
Today we bring you the genius designs of Migonne Handmade. Another Etsy treasure, Jennifer Wood (creator of Migonne Handmade) designs the most beautiful bridal headpieces and accessories. Each piece has been inspired by her career in floral design and love for embellishment, decorative forms and above all, pretty things.
I think you'll agree that, after viewing the oh so pretty images below, each piece has such an endearing romantic classical feel but is also very different to anything you have seen before. From earthy designs that echo the days of Maid Marion to vintage lace pieces that would not look out of place on a 1920's bride – there is a beautiful piece for every style of wedding dress.
Here's some of our favourites.
Keep your eye out for the cherry blossom shoe clips – they rock!
Nature Girl Halo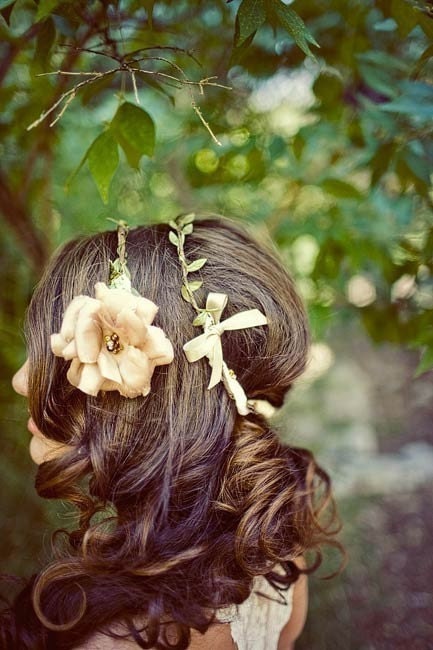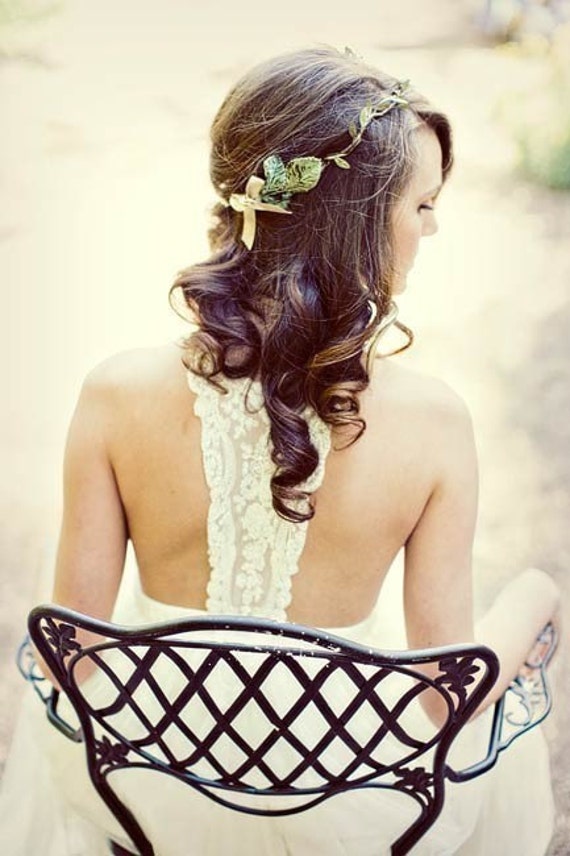 This lovely handmade headpiece is a 30″ long piece of flexible bark-covered wire intertwined with bits of braided cream silk crepe that has been beaded with czech glass beads. The entire length of the wire has been woven in with satin "leaves" ribbon and accented with velvet green milliners leaves and silk ribbon bows. The 4- 4.5″ flower is in pink-peach nude silk charmeuse, hand cut, hand pressed and hand sewn with a czech glass bead center. So pretty and so versatile!
Brass flowers and leaves crown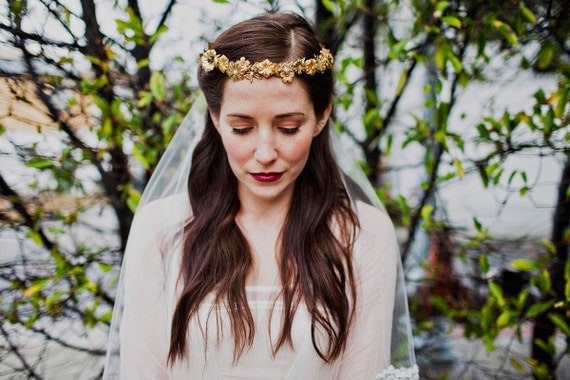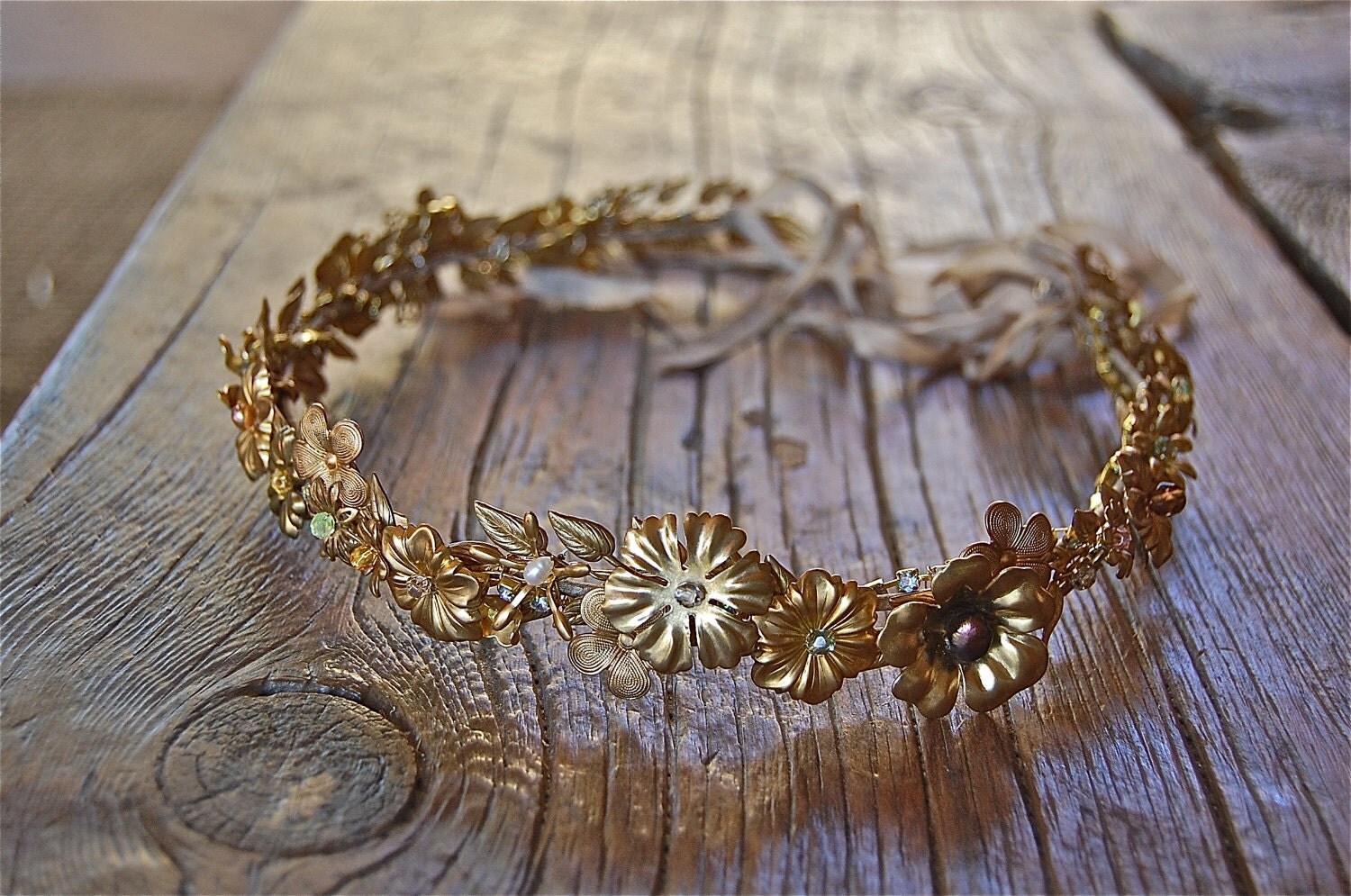 This exquisite halo is completely assembled by hand in Migonne Handmade's studio. Each component is hand wired with freshwater pearls or czech glass beads and artfully arranged wire wrapped and hand soldered onto a silk covered band with silk ties. Their lovely alencon crystal beaded veil comb accents this piece perfectly. Many of the brass flowers are vintage on this piece.
Handmade flowers headband with birdcage veil overlay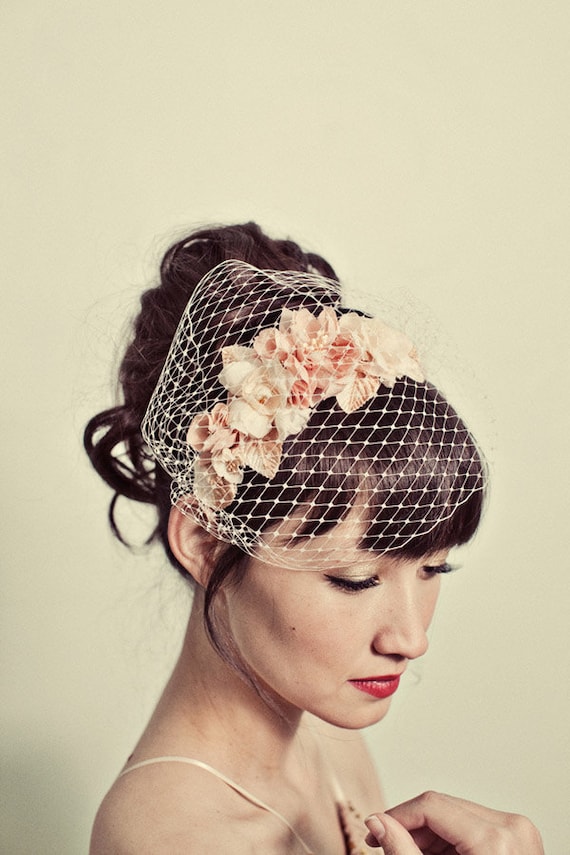 Handmade flowers in shades of blush and pale peach silk and cotton clustered on a blush silk covered skinny headband. Each flower is handmade and individual with varying centers of czech glass beads and gold stamens, velvet millinery leaves round out the design and it is covered in a delicate swathe of ivory french netting. Everything is attached to the headband and felt backed for easy wear. The birdcage veil is adjustable to your desired coverage, wear it up or down. Veil is not detachable but can be made detachable.
Venetian lace cap headband with chenille dot netting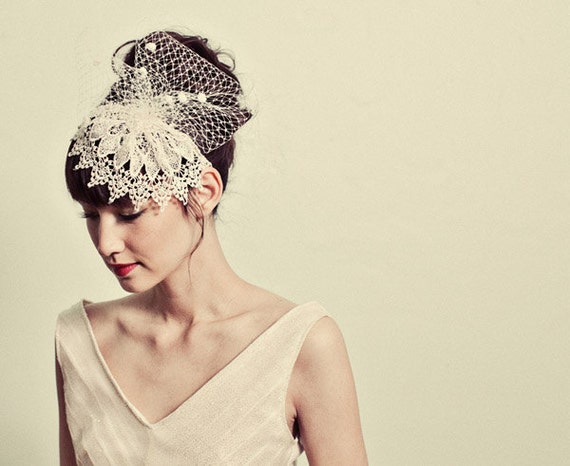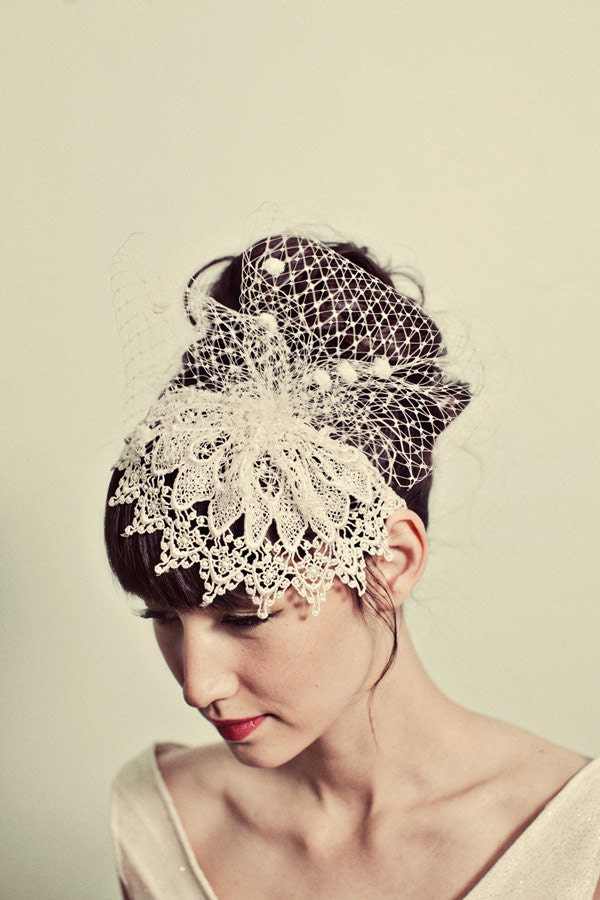 A silk covered skinny headband, hand sewn with intricate pale ivory venetian lace topped with a pouf of chenille dot ivory french netting. So unique and sooooooooo beautiful!
Golden flowers and vines crown/halo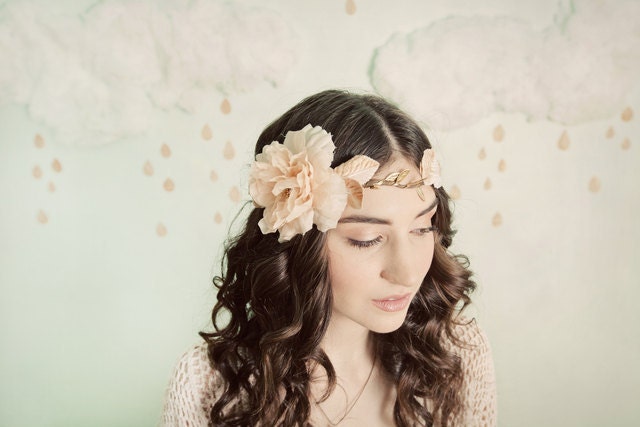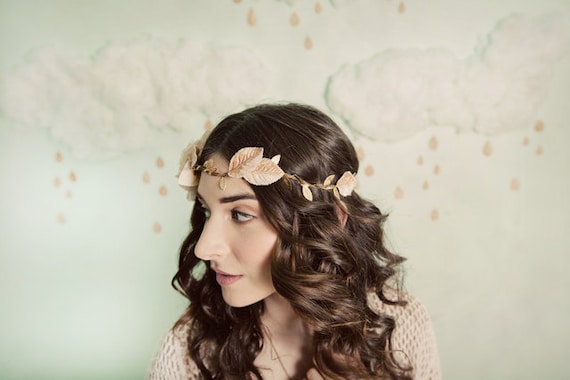 This piece is made from bark covered wire that is intertwined with golden vines and decorated with a handmade silk flower, dyed and pressed to rose gold beige perfection and accented with reproduction vintage milliners leaves in peaches, golds and soft beiges. I WANT IT!
Velvet leaves and chains halo in beiges and ivory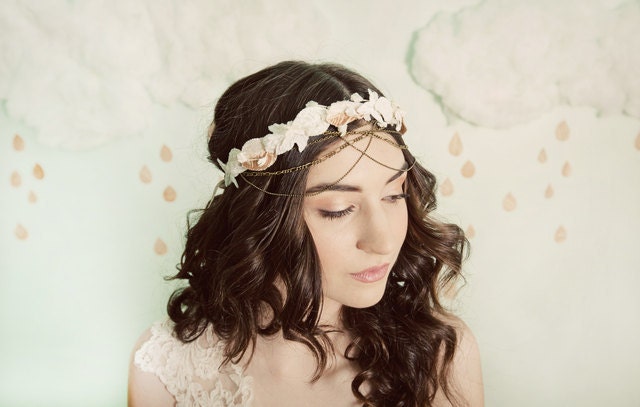 This unique halo is covered with vintage and vintage reproduction velvet milliners leaves and vintage milliners baby's breath and draped with brass chains, ties in the back with silk ribbon.
Romantic flower crown in ivory, yellow, blue and beige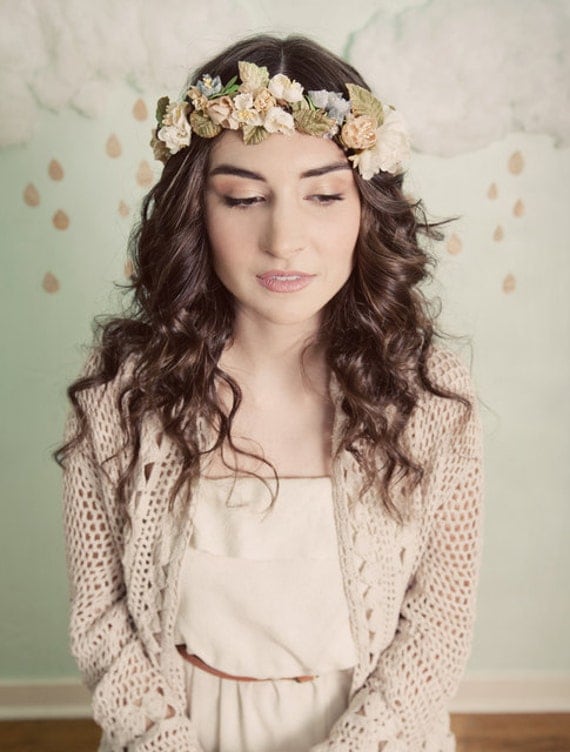 This gorgeous, pre-raphaelite influenced piece is made from hand woven and formed bark covered wire intertwined with "vine" ribbon, velvet milliners leaves and decorated with bunches of handmade silk, cotton and linen tiny realistic blooms.
Beaded garland headband with blush flower detail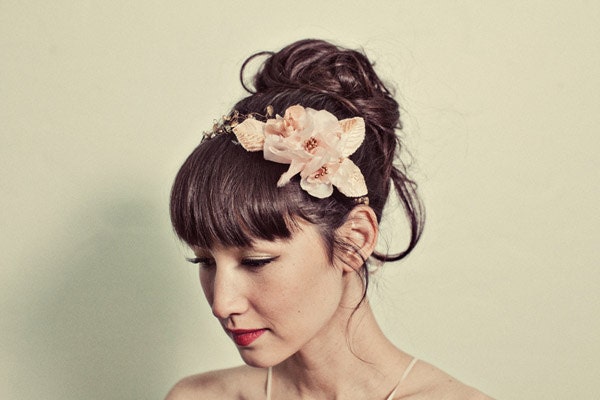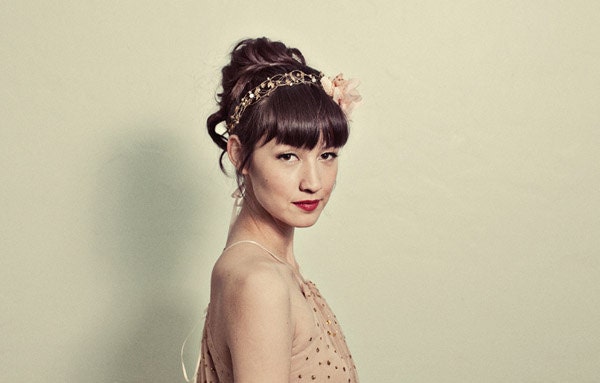 This gorgeous and unique piece consists of a band of hand wired czech glass bead garland that has been woven with gold leaves garland and adorned with handmade blush silk flowers and velvet milliners leaves. This piece ties in the back with blush silk ribbon.
Handmade silk blossoms belt and 3 feathers necklace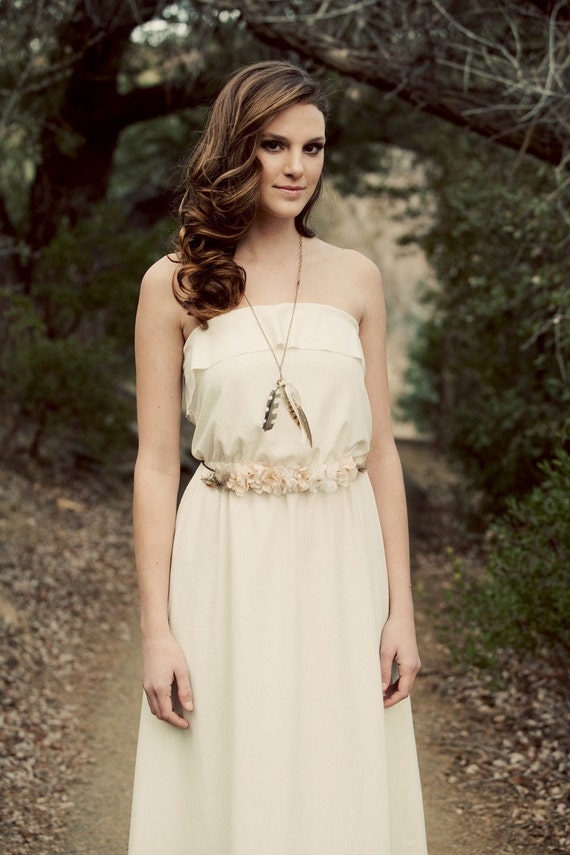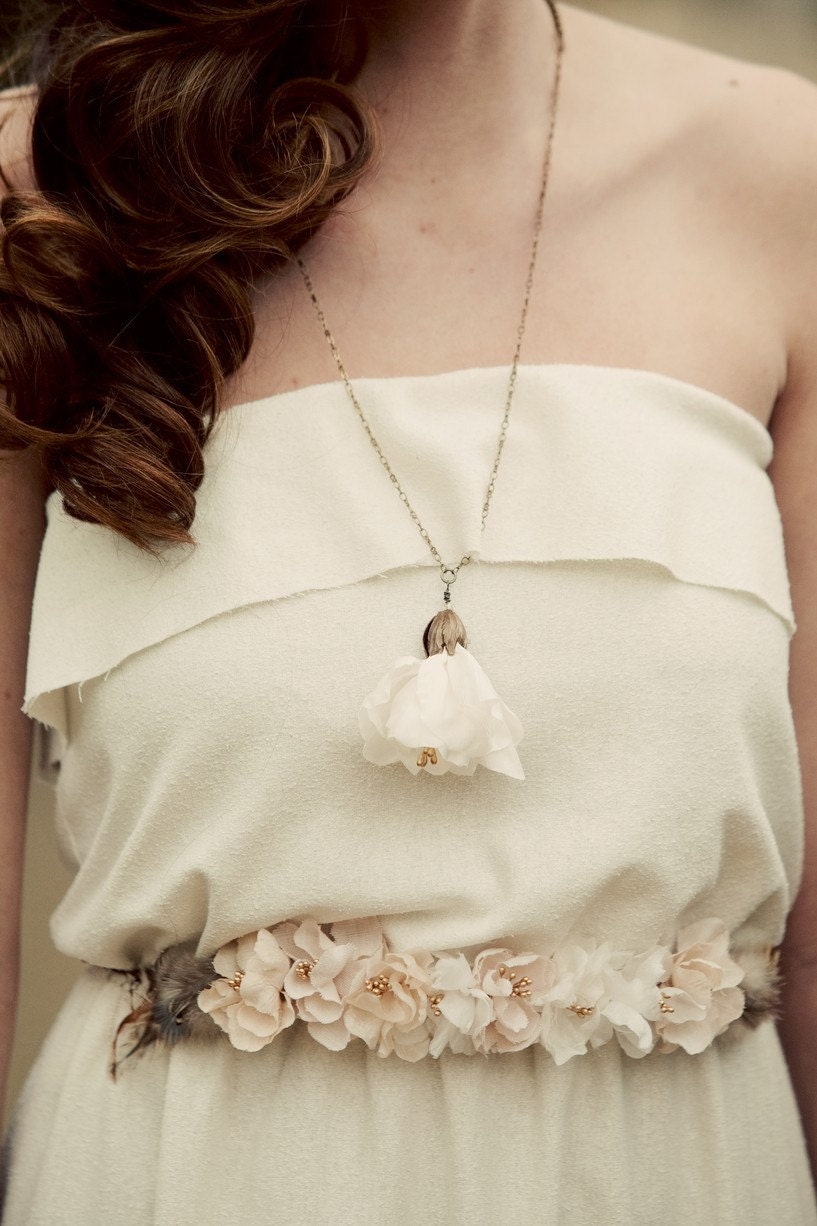 This pretty belt is made with silk, linen, and cotton blossoms in creams/ivories/beiges with feather accents at each end. The blossoms have bronze stamens and it is all mounted and felt backed on a length of rustic bark covered wire. Perfect accessory for your simple gown.
Brass flowers and leaves ring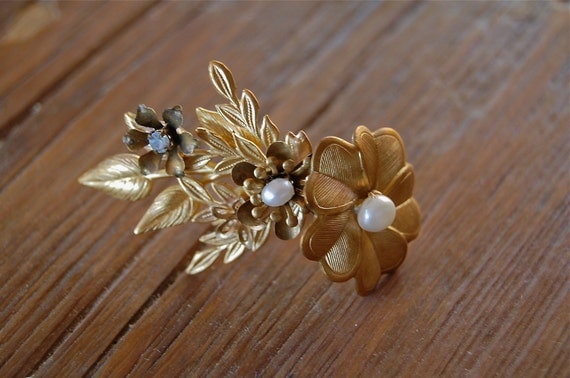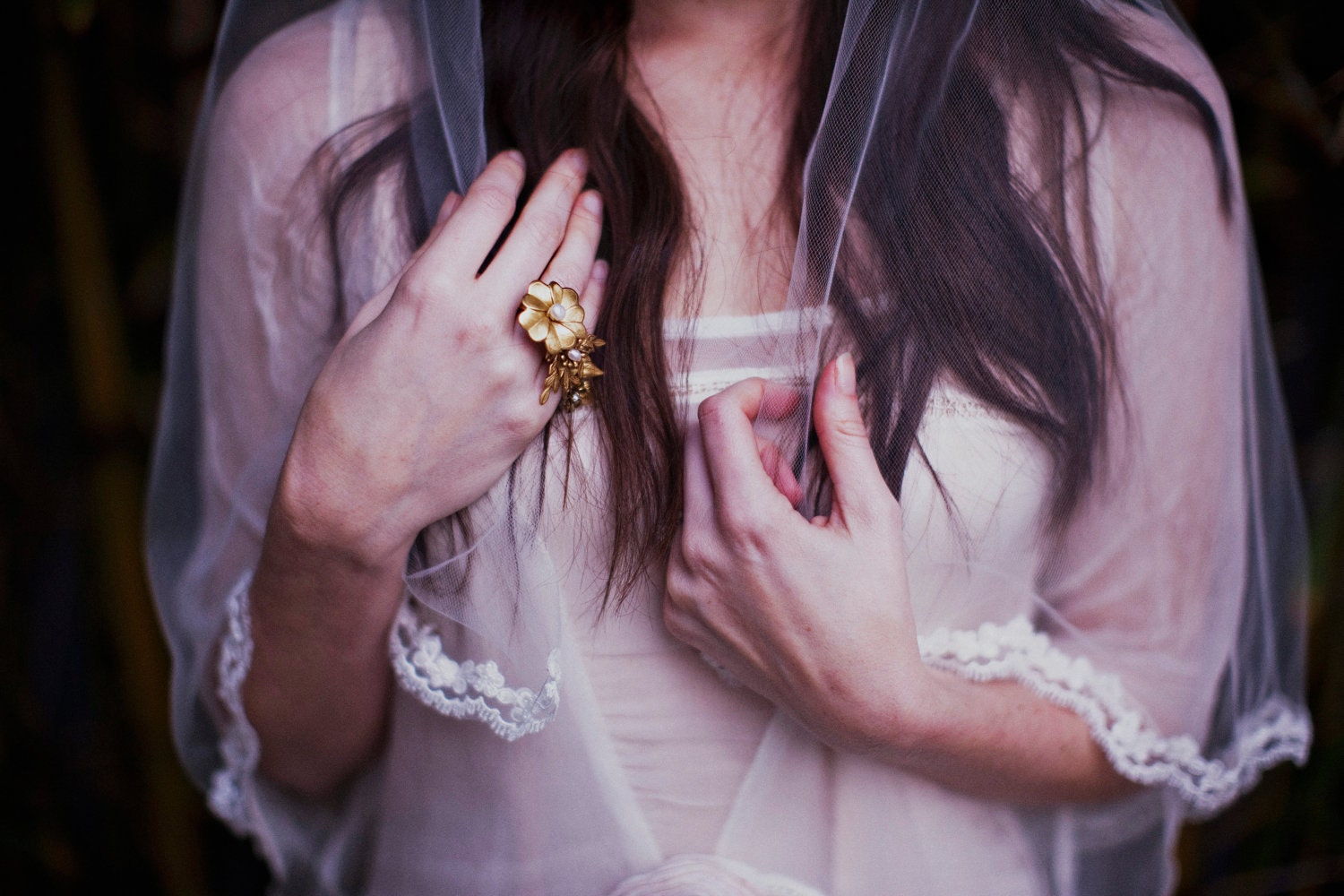 Brass flowers are wired with freshwater pearls and hand soldered on a gold plated ring base with brass leaves, covers two fingers.
Cherry blossom shoe clips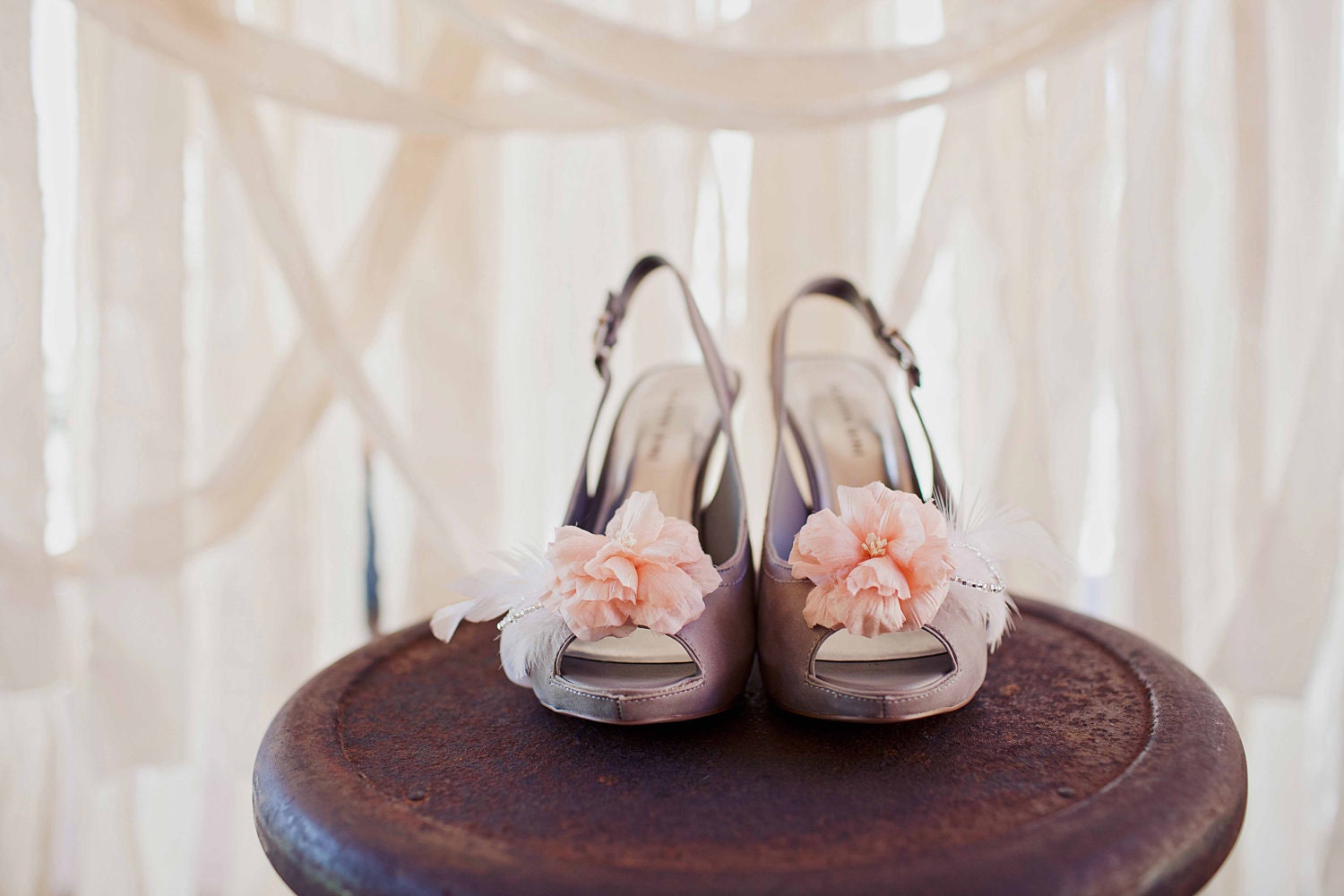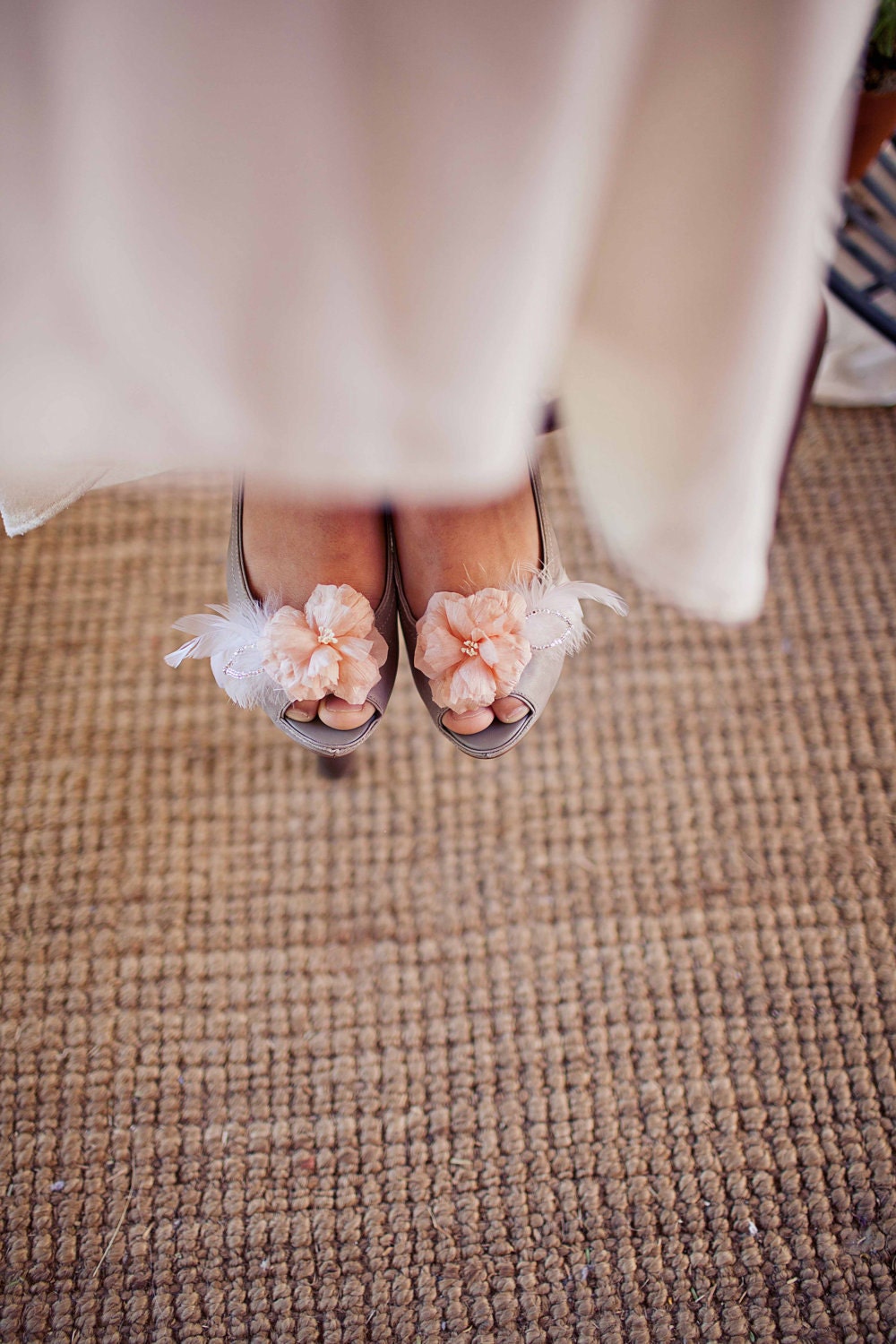 Hand dyed silk habotai, hand pressed petals with hand dyed feather accents and hand beaded pearl accents. (Also available in Pear blossom-ivory or Apple blossom-white)
See what I mean!? Such beautiful wedding accessories – if only I could get married more than once so I can wear them all!
For more information on Migonne Handmade, please visit their website or Etsy shop – there is a whole wealth of wedding pretty just waiting to be purchased by a Festival Bride.
Happy Wednesday peeps!
Big Love
Festival Brides xx